The Direct Advantage Program

This exclusive program provides new technology, financial tools and customized clinical support education on a variety of relevant topics. We will use our proven strategies to work with you to maximize your efficiency so you will "get more for less!"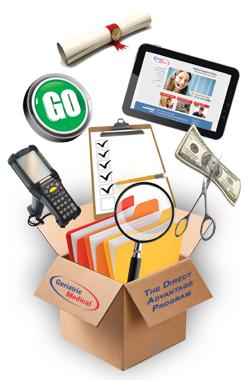 Online Ordering System (GO)
GO Order - You do not have to be a computer expert to use GO order, Geriatric Medical's online ordering system. It is loaded with smart and useful functions, yet its simple user interface allows just about anyone to place orders with a few clicks.
GO Formulary - You will work with Geriatric Medical's team of experts to determine the formulary that best meets the needs of your facility. GO formulary has the ability to lock out any non-formulary order or send an automatic email alert when a non-approved item is ordered. Or, if you wish, this feature can be turned off, allowing your facility access to more than 30,000 items from nearly every major manufacturer.
GO MTD Purchase Tally - The guesswork ends as you will know exactly how much you are spending with our GO month-to-date purchase tally feature. Simply look to the left side of the ordering page and view your current MTD purchase total in real time.
GO Budget Tracker - Manage your monthly budget in real time, online. Just input your budget and the GO budget tracker will keep a running tally of available funds and even send you an email alert when you approach your limit.
GO Reports - Access to detailed utilization and expense reports are available at any time. Simply select the report you want and you will have it in seconds - it is that easy.
Stockroom Reorganization - Couldn't we all use a personal organizer? The team at Geriatric Medical is trained to reinvent your stock room. From bins to labels and par levels, we will roll up our sleeves to make you more efficient.
Business Reviews - A trained Geriatric Medical staff member will review and analyze usage reports and make recommendations for alternative products that may deliver clinical or cost benefit. Some of the most common reports presented in a business review include:
Formulary Compliance report
Cost Savings Alternative Product Suggestion report
Detailed Purchase Activity report

By product category
In descending dollars
Continuing Education - Geriatric Medical team members work with clinicians to develop and deliver the clinical support education necessary to keep your facility up-to-date on new products and product usage best practices. We offer Lunch & Learn presentations, interactive education modules, online programs, and CEUs.
Education topics include:
Skin care/wound care
Fall management
Incontinence care
Sharps safety
Nutrition
Safe lifting
Survey readiness and more...